Free .FR domains available with hosting plans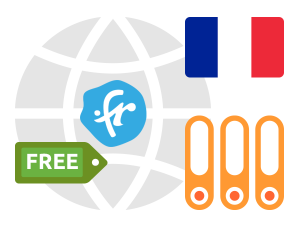 The .FR domain is the country-code top-level domain for France and we've developed an easy and quick registration procedure for it. What's more, you can offer free .FR domains with a web hosting plan to each of your customers.
Read below for more details about the official ccTLD for France – a brief retrospection, its registration requirements and info about the registration procedure itself.
Why should you offer free .FR domains?
According to official statistics, France is the second largest economy in the European Union and the seventh largest purchasing power economy in the world (2017).
Therefore, once you get your .FR ccTLD, you'll have a huge international market to conquer. Should you have an attractive and well-optimized website, you'll shortly welcome many thousands of French visitors.
If you have a well-translated French version of your .FR website, you'll be able to target the residents of at least 29 countries (where French is the official language), such as Belgium, Luxembourg, Monaco, Canada, and others. Their overall population exceeds 270 million people.
AFNIC stated that more than 50 million people are currently using the Internet in France.
It's good to know that 80% of the searches in France are local. Because of this, almost all French businesses use an .FR domain name.
Of course your .FR domain will be ranked higher by search engines in France. So, even if you have invested a lot of efforts and time into developing your site and making it easily accessible to your targeted audience in France, you'll be positioned below similar sites with the .FR domain name extension.
Don't hesitate to apply for registration of an .FR domain and enter the vast French-speaking online market!
How to offer free .FR domains with a hosting plan?
The first step is to enable .FR domain registration for your store. You can do that from the My Domains section of your Reseller Control Panel. Simply locate the .FR domain name in the table and click on the lightbulb icon for it.
And if you already offer free domains with your plans, that's it. You don't have to do anything else, customers will be able to register .FR domain for free.
If you are yet to offer free domains with your plans, there are some extra steps you need to take.
Go to the Shared Hosting Offers section of the Reseller Control Panel. There, for each plan, you will see a small red globe icon – click on it. When it turns green, it means that customers can now order a free domain with this plan.
Free .FR domains registration requirements
Today .FR country-code top-level domain can be registered by any individual or country/organization from the European Union, Iceland, Liechtenstein, Norway, and Switzerland.
The registration period for an .FR domain name extension is one year.
You can transfer any existing .FR domain that you have to us without an effort. Our cutting-edge cloud hosting platform and experienced team of administrators guarantee an outstanding hosting experience. Each time a .FR domain transfer is completed, its expiration date will be extended by a period of 1 year (from the date of transfer).
Your .FR domains can contain 3 – 6 characters. All of the standard international English alphabet letters (A – Z) are allowed, as well as numbers (0 – 9) and hyphens (except at the beginning or end of the given domain name).