"Business Satellite" Web Hosting Theme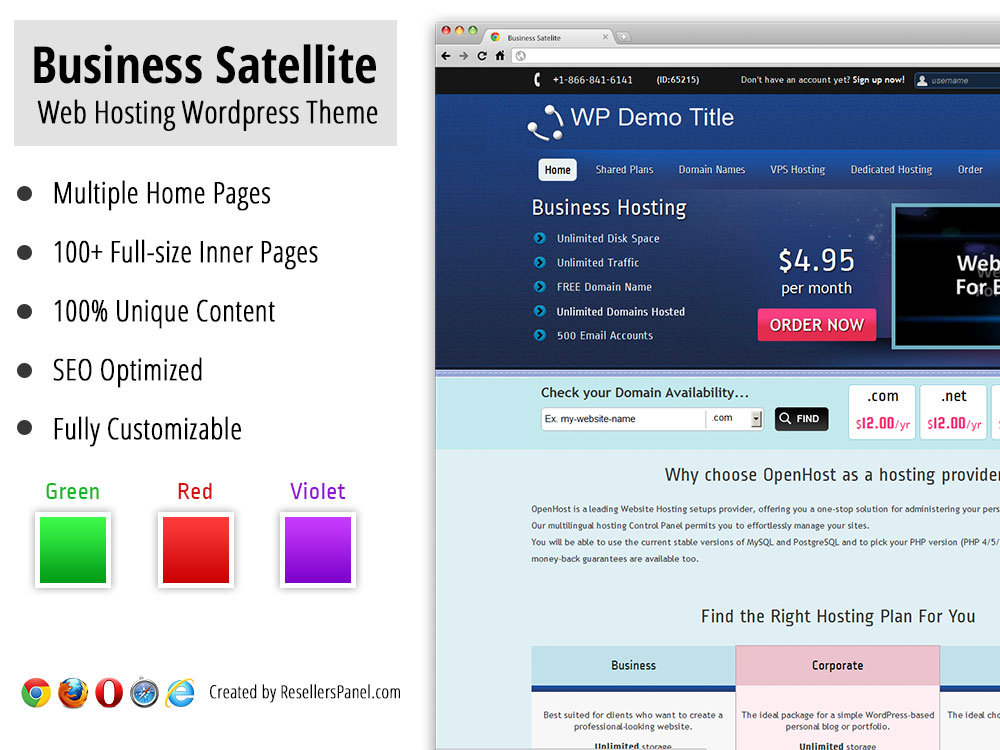 Web Hosting Theme Overview
The Business Satellite theme relies on a strong graphical approach with very accented header part. This attracts the visitors attention to the web hosting service offered there, generating lots of attention.
Just like the rest of the themes, provided by ResellersPanel, the New Aurora and the Next Level, the Business Satellite theme comes with 100+ pages, available to the user. Both the Home page and the inner pages have several layouts available – combined with the unique content for each page, this means that no two websites using the same theme will be alike.
All the content for the pages is SEO optimized and each page includes custom meta title, meta description, and meta keywords content – we have done all the heavy lifting for you already.
Thanks to the full API integration, all changes made in your reseller hosting account with ResellersPanel will be reflected automatically on your website – you will not have to change anything manually.
Ideal for selling:
Highlights
Completely Free
4 Color Options
100% Unique Content
More Than 70 SEO Optimized Pages
Multiple Home Pages
Multiple Page Layouts
API Integrated Order Form
Requirements
Free account with ResellersPanel.com (if you don't have one, you can sign up for free)
ResellersPanel WordPress Plugin (required for connection with API)
2 responses to ""Business Satellite" Web Hosting Theme"