Concept View Hosting Theme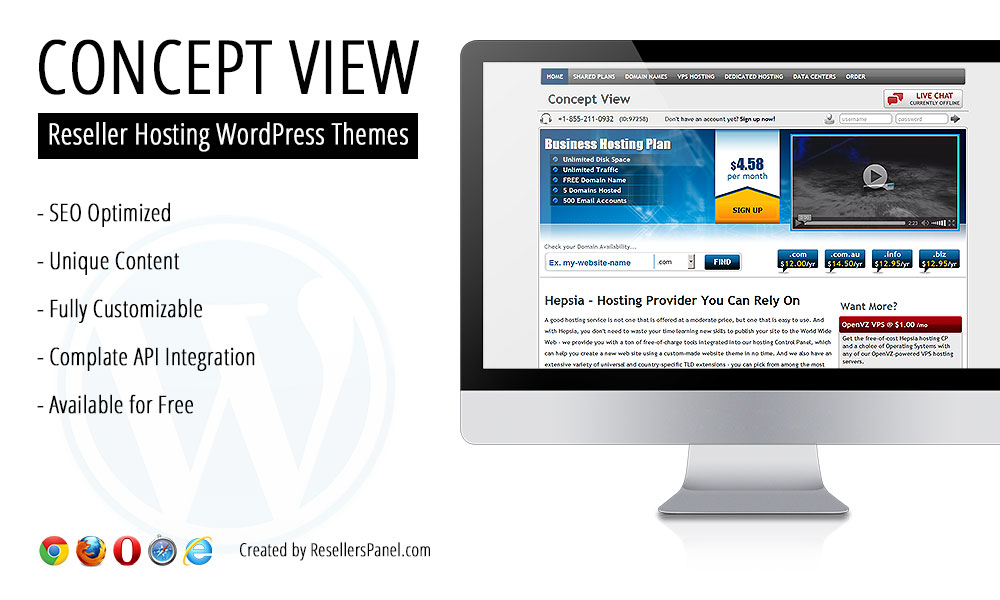 Concept View Hosting Theme Overview
The Concept View Hosting Theme is an elegant, no-frills hosting theme which puts content front & center in lieu of images or graphics. It uses a combination of white and grey backgrounds with cool-blue accents and yellow-orange buttons that attract the attention of the visitor. The sparse overall of bright colors allows them to pop out even more, creating high-contrast objects that are pleasing to the eye.
Just as the rest of our hosting themes, the Concept View Hosting Theme supports more than 100 different pages out of the box, with support for more added with each update. All pages feature 100% unique content and are fully SEO optimized.
The Concept View Hosting Theme is fully customizable – you are free to change the text, the images, the design, etc. at your own leisure. It is available for free and you can get it together with our WordPres plugin from here.
You can sell:
Highlights
Free
Fully Responsive
Unique Content
100+ SEO Optimized Pages
Multiple Page Layouts
Full API Integration
Requirements
Free account with ResellersPanel.com (you can sign up for free here)
ResellersPanel WordPress Plugin (required for API connection)