Contrast Hosting Theme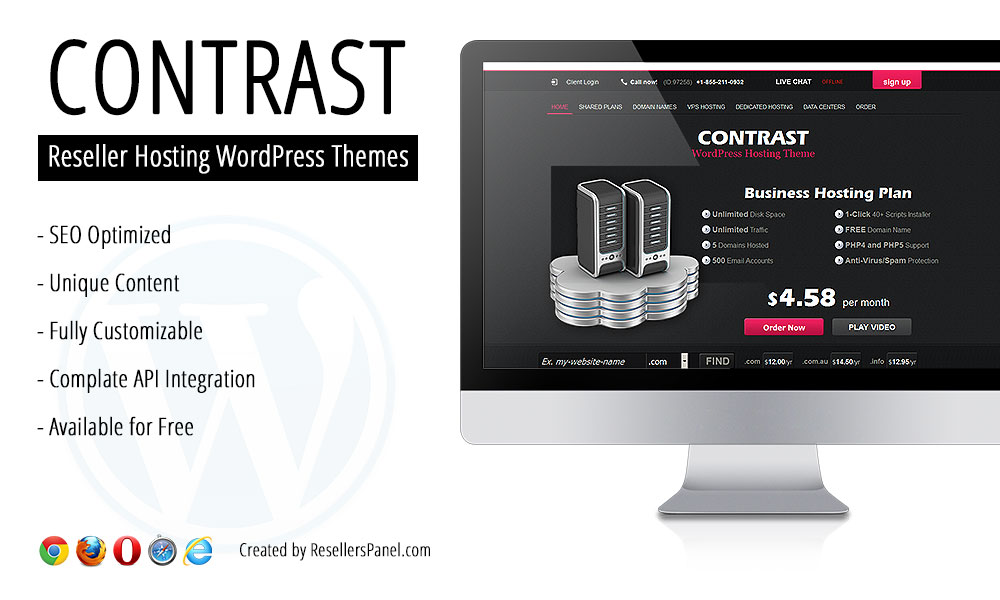 Contrast Hosting Theme Overview
The Contrast Hosting Theme is worthy of its name, with strong black and grey backgrounds, complimented by magnets, colored buttons and links. The white headers add additional contrast, which attracts the attention of the visitor to the elements that are connected with the process of creating an account.
Just as the rest of our hosting themes, the Contrast Hosting Theme comes with native support for more than 100 different pages. They range from product pages with multiple layout options, designed to convert visitors, to article pages designed to bring people to your site. Each one of these pages features unique content and is 100% SEO optimized.
The Contrast Hosting Theme is also fully customizable – you can change every element of the design and every word of the text. It's available for free and  you can download it from here.
You can sell:
Highlights
100% Free
Responsive
Unique Content
100+ SEO Optimized Pages
Different Page Layouts
Complete API Integration
Requirements
Free account with ResellersPanel.com (if you don't have one, you can sign up for free)
ResellersPanel WordPress Plugin (required for connection with API)
One response to "Contrast Hosting Theme"