Fresh Looks Hosting Theme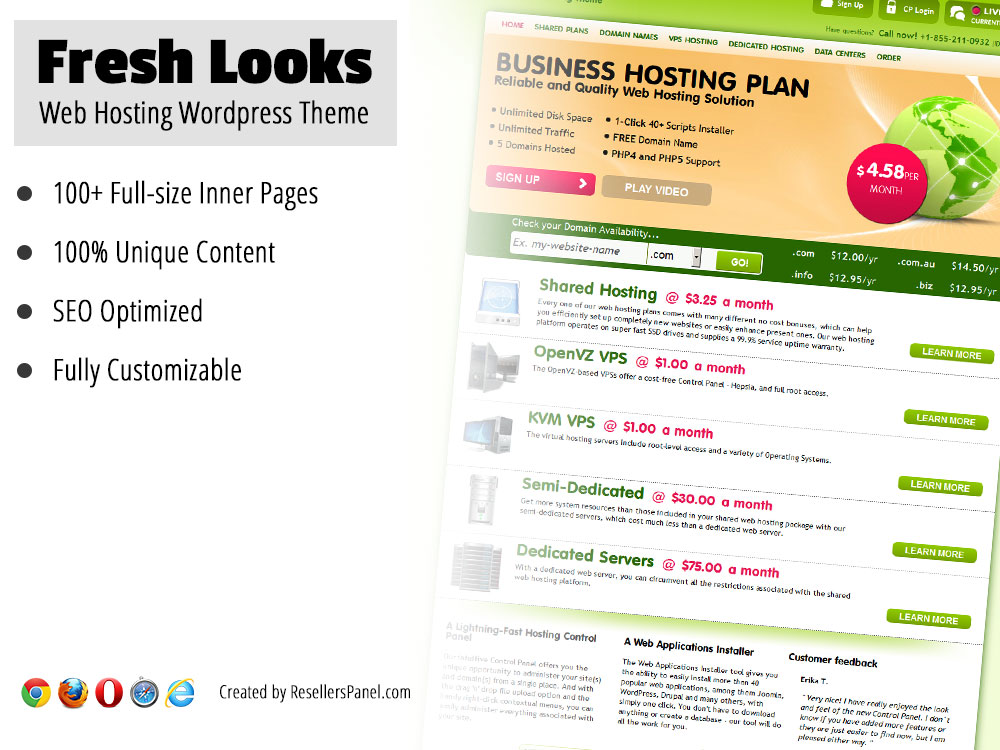 Fresh Looks WordPress Hosting Theme Overview
If you are looking to set up a fresh-looking web hosting store, check out our new Fresh Looks WordPress theme. Unlike the omnipresent emotionless business site designs, it uses a bright green-vibrant red color scheme complete with different playful fonts, which creates a vivacious atmosphere that can generate positive customer responses. The theme is designed to grab the attention of the visitor and to leave a lasting impression with its strong visual style.
The Fresh Looks WordPress hosting theme offers support for more than 100 different web pages, ranging from product and service pages using various visual styles to article pages designed to attract traffic. In addition, each and every page comes with unique content generated just for you and is fully SEO-optimized.
With the Fresh Looks WordPress hosting theme, you will be free to customize anything and everything you'd like. At any given moment, you will be able to change the text to better suit your current content marketing campaign and/or to modify the design to fit it into your overall brand identity strategy. Most of all, Fresh Looks comes free of charge just like the rest of our WordPress hosting themes.
You can sell:
Highlights
100% Free
Fully Responsive
Unique Content
100+ SEO Optimized Pages
Multiple Page Layouts
Full Reseller API Integration
Requirements
Free account with ResellersPanel.com (you can sign up for free)
ResellersPanel WordPress Plugin (required for API connection)