Hostpress Hosting Theme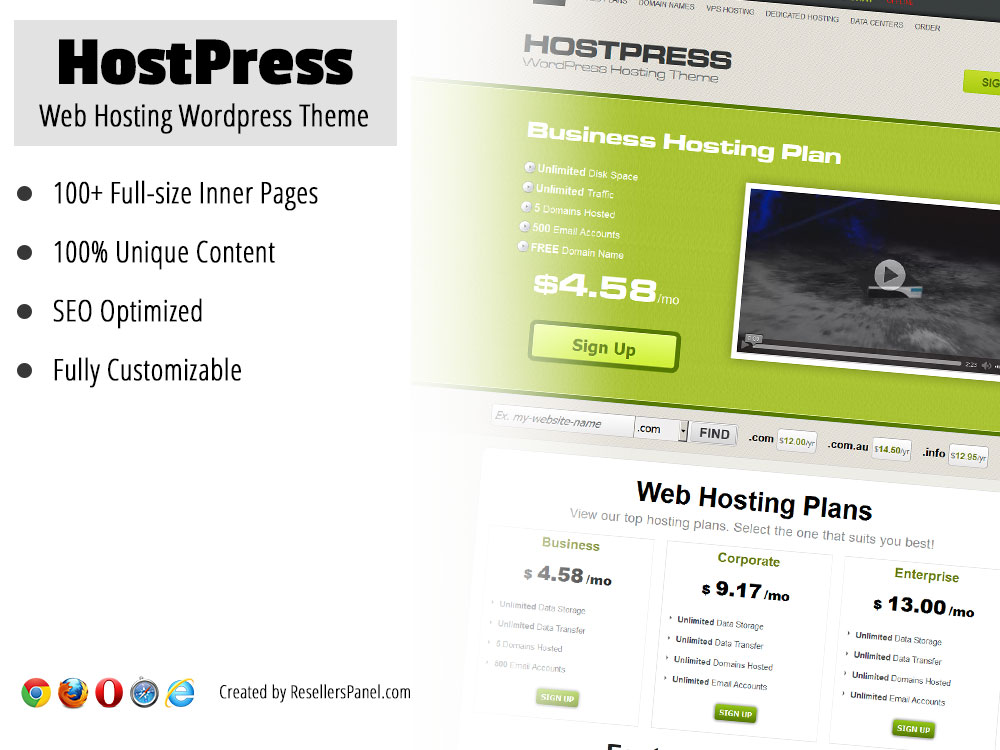 Overview of the Hostpress WordPress Hosting Theme
The Hostpress WordPress hosting theme features a bright-green header area, which sets it apart from most of our other WordPress themes. The light-grey body background color, on the other hand, gives your content a better chance to stick out. Furthermore, the index page features a large video player, which allows you to showcase your services via an eye-friendly visual presentation.
This theme has in-built support for all the 100+ SEO-optimized web pages included in ResellersPanel's WordPress plugin. The majority of these pages also offer multiple layout customization options.
In addition, if you want to change the text so as to better suit your brand's message or to target different keywords, you can do that with ease. You can also modify the theme's design as you see fit.
The Hostpress WordPress hosting theme is available for free. All you need is a free reseller hosting account with ResellersPanel and an active hosting store.
You can sell:
Highlights
100% Free
100% Unique Content
Fully Responsive
SEO Optimized
Several Page Layouts
API Integration
Requirements
Account with ResellersPanel (sign up for free)
ResellersPanel WordPress Plugin (required for connection with API)