"New Evolution" Web Hosting Theme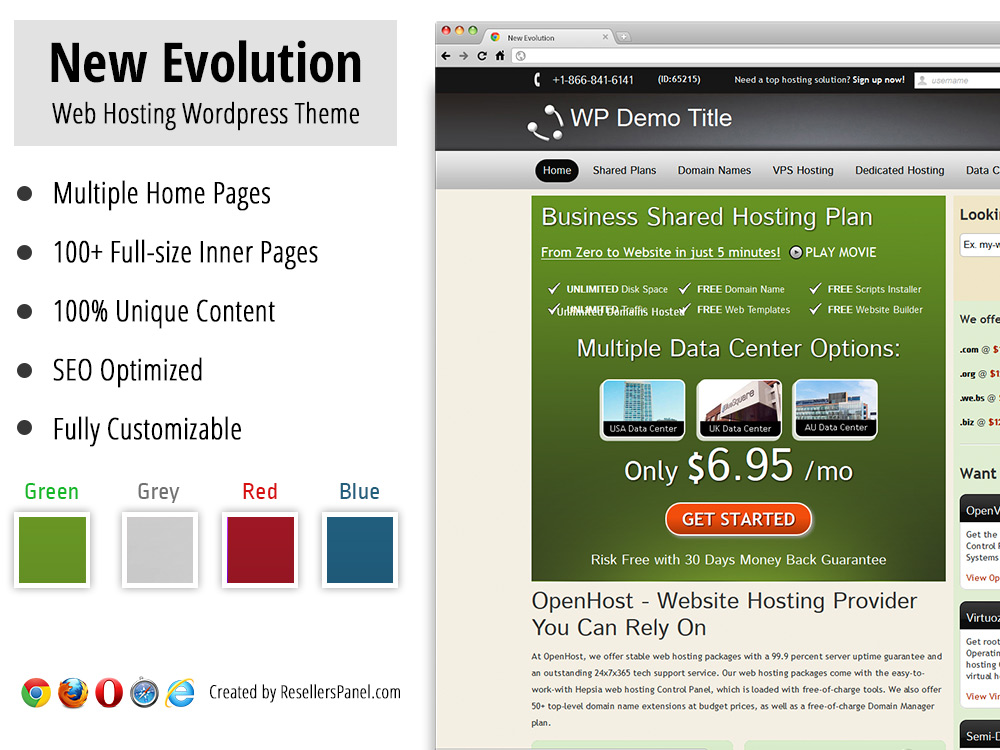 Web Hosting Theme Overview
The New Evolution web hosting theme is the latest addition to our collection of free WordPress hosting themes. It has a clean, colorful design, just like the New Aurora theme, one of our most popular WordPress hosting themes.
Like the rest of the themes designed by ResellersPanel, the New Evolution theme offers support for more than 100 pages, including the latest pages introduced by the WordPress reseller hosting plugin v1.3. It supports all 5 available versions of the index page, and comes with 4 different color schemes. Each page is SEO-optimized with a unique page title, meta description and meta keywords.
With the recent WordPress reseller hosting plugin changes, the API connection is even faster. All changes you make in your Reseller Control Panel will be reflected on your WordPress hosting website.
Ideal for selling:
Highlights
100% Free
4 Color Options
Unique Content
More Than 100 SEO Optimized Pages
Multiple Index Pages
Different Page Layouts
API Integrated Order Form
Requirements
Free account with ResellersPanel.com (if you don't have one, you can sign up for free)
ResellersPanel WordPress Plugin (required for connection with API)
2 responses to ""New Evolution" Web Hosting Theme"