"Next Level" WordPress Web Hosting Theme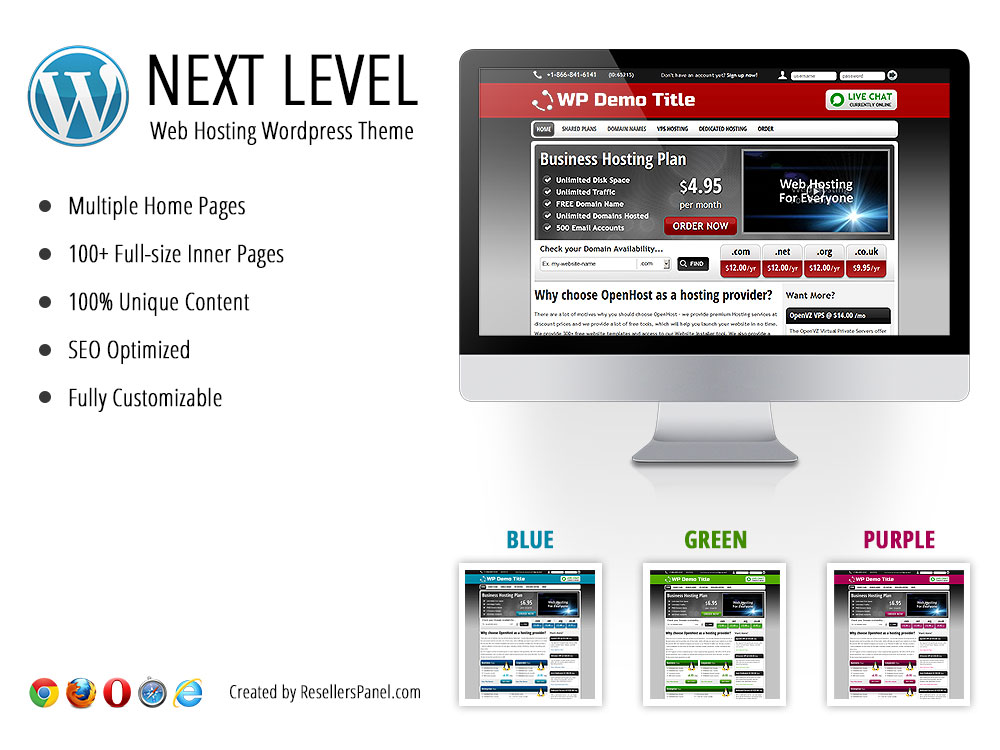 Web Hosting Theme Overview
The Next Level is the first reseller hosting WordPress theme, designed and developed by ResellersPanel. It offers a quick and simple way to connect with our service API and allows you to build a completely custom website without having to write a single line of code.
With quick and easy setup, the Next Level theme comes with 100+ pages, all of which feature a unique, SEO-optimized content. The home and inner pages supported come with multiple different layouts, giving you the option to choose the one that suits you best. The theme also supports 4 different color options.
Each page also comes with custom meta tags – meta title, description, and keywords, ready to be indexed by search engines.
All in all, we have done all the heavy lifting for you – all you have to do is simply install the theme and choose a layout you like.
Perfect for selling:
Highlights
Completely Free
4 Color Options
100% Unique Content
More Than 70 SEO Optimized Pages
Multiple Home Pages
Multiple Page Layouts
API Integrated Order Form
Requirements
Free account with ResellersPanel.com (if you don't have one, you can sign up for free)
ResellersPanel WordPress Plugin (required for connection with API)
2 responses to ""Next Level" WordPress Web Hosting Theme"