Optimum Hosting WordPress theme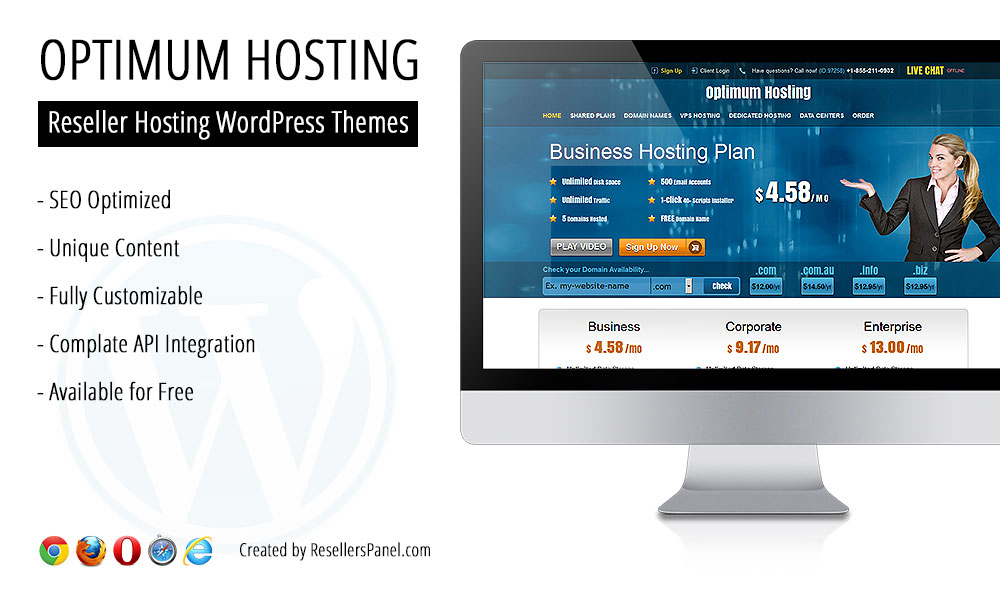 An overview of the Optimum Hosting WordPress theme
Our Optimum Hosting WordPress theme has a clean, aesthetically pleasing design. The white body background color allows the content to stand out. The blue banner area contrasts perfectly with the bright-orange elements and CTA buttons. Multiple A/B tests have proven that one of the best colors for call-to-action buttons is namely orange.
This theme offers full support for our ever-growing collection of web pages (100+ and counting) included in our WordPress plugin. Not only that, the majority of these pages offer multiple design modification options, so if you want to switch to a different layout scheme, you can do that with just a few clicks. In addition, you can edit their textual content in any way you want.
Each page has been optimized for search engines for specific keywords.
You can get the Optimum Hosting WordPress theme for free and use it to attract new customers with ease. All you need is a free reseller hosting account with ResellersPanel.
You can sell:
Highlights
100% API Integration
Available for Free
Responsive
Completely SEO-optimized
Unique Content
Turn-key set-up
Requirements
Account with ResellersPanel (sign up for free)
ResellersPanel WordPress Plugin (required for connection with API)