Pro Hosting WordPress theme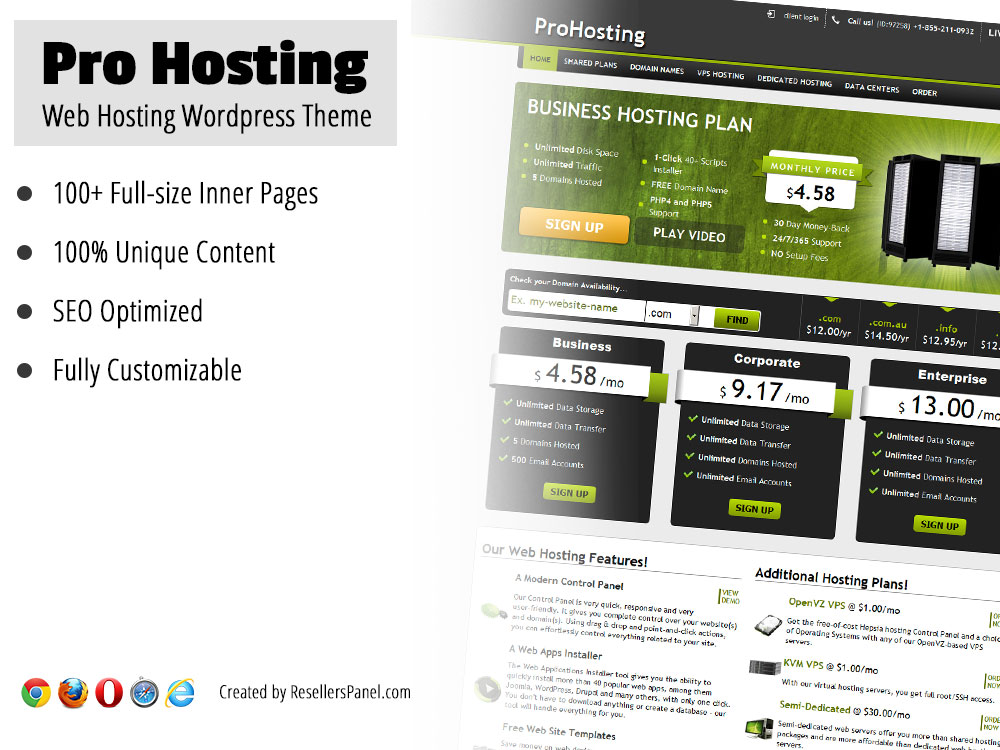 An overview of the Pro Hosting WordPress theme
The Pro Hosting WordPress theme combines several contrasting colors that have significant attention-drawing virtues. The distinctive light-grey background, the apple-green main banner and the dark-grey plan boxes are self-complementary. The inner pages use a classic, black-and-white color combination. Professional-looking lime-tinted CTA buttons further contribute to their overall visual appeal.
The Pro Hosting WordPress theme offers full support for all the web pages that are included in our WordPress plugin. At the moment, there are 100+ different pages and this number is constantly growing. The theme also supports multiple page layouts, so you will be able to change the way your store looks with just a few clicks.
All Pro Hosting theme-supported pages have been optimized around several focus keywords. The textual content itself is 100% unique and has been generated exclusively for your online store. You will be able to edit it in any way you want so as to keep it in tune with the goals of your online store.
The Pro Hosting WordPress theme is available for free to all the members of ResellersPanel's Free Reseller Hosting Program.
You can sell:
Highlights
100% Unique Content
Available for Free
Mobile Ready
Fully SEO Optimized Pages
Different Page Layouts
API Integration
Requirements
Account with ResellersPanel (sign up for free)
ResellersPanel WordPress Plugin (required for connection with API)
2 responses to "Pro Hosting WordPress theme"