Simplistic free WordPress hosting theme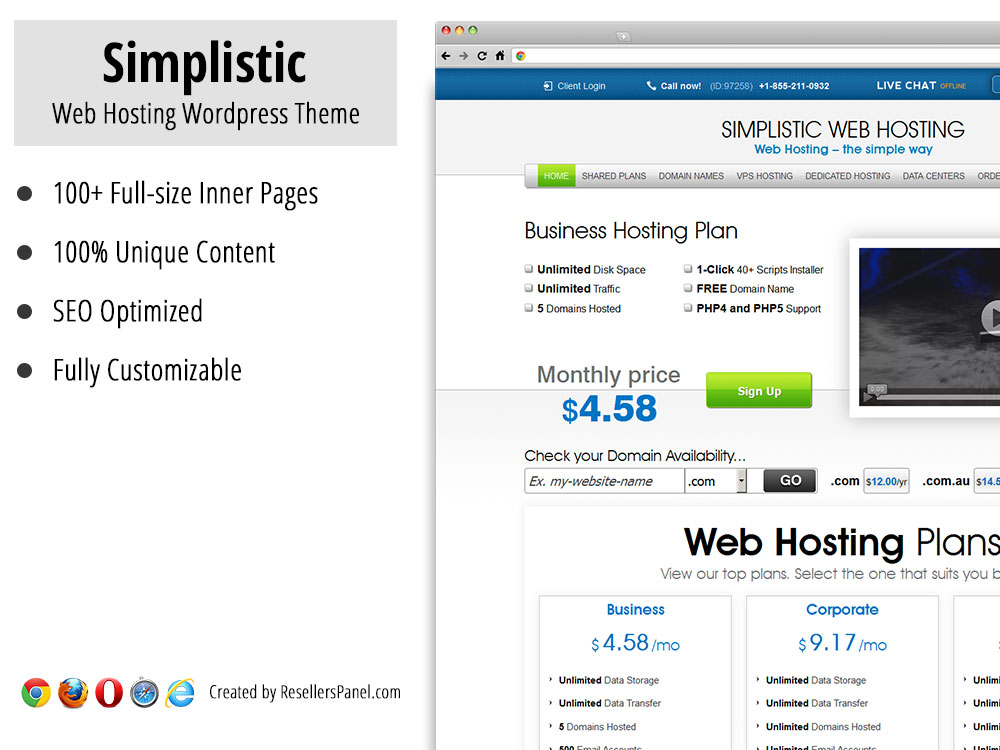 An overview of the Simplistic WordPress hosting theme
The Simplistic WordPress hosting theme has a much simpler design compared to many of our other WordPress hosting themes. It doesn't have one particular signature banner color, relying instead on different shades of grey and white. Green buttons and blue box titles in turn compensate the absence of a dominant background color. This stripped-down color palette allows the text to clearly stand out.
The Simplistic WordPress hosting theme also offers native support for more than 100 web pages, most of which support multiple design modification options. The different page layouts can be changed with just a click, which means that you can give your hosting store a new look in a matter of seconds.
As for the pages themselves, they are fully SEO-optimized and focused on several keywords chosen specifically for your hosting store. As already mentioned, they are also completely customizable – you can change the theme's entire look and feel in a flash.
All members of ResellersPanel's Free Reseller Program can download the Simplistic WordPress hosting theme for free together with the WordPress plugin, which is used to establish an API connection.
You can sell:
Highlights
100% Unique Content
Available for Free
Mobile Ready
Fully SEO Optimized Pages
Different Page Layouts
API Integration
Requirements
Account with ResellersPanel (sign up for free)
ResellersPanel WordPress Plugin (required for connection with API)
One response to "Simplistic free WordPress hosting theme"